GRILLED CAESAR SALAD
Gluten-free//Vegan

Leveled up a classic Caesar salad with a little char from some grilling action!

Prep time: 10 mins
Cook time: 30 mins
GO TO RECIPE
INGREDIENTS
Salad
2 medium heads of romaine, cut in half, lengthwise
½ small loaf crusty bread, such as sourdough, torn into 1-inch pieces (about 1.5 - 2 cups)
¼ cup extra virgin olive oil
Kosher salt and freshly ground black pepper
1-14oz can chickpeas, drained, rinsed and thoroughly dried

Dressing
1 cup roasted cashews
1 snack-size sheet roasted nori, crumbled (optional)
¼ cup nutritional yeast, plus more for serving
¼ cup fresh lemon juice
3 garlic cloves
2 teaspoons brine from a jar of capers
1 teaspoon Dijon mustard
1 teaspoon white miso paste
¾ teaspoon kosher salt
½ teaspoon freshly ground black pepper

Additional Toppings
Grilled lemon
Nutritional yeast
DIRECTIONS
1. Heat the oven to 400°F.
2. On a medium baking sheet, toss the bread with 2 tbsp olive oil; season generously with salt and pepper. On a second baking sheet, toss the chickpeas with remaining 2 tablespoons oil; season generously with salt and pepper. Bake both the croutons and chickpeas until browned and crisp, stirring both halfway through, about 10 minutes for the croutons and 20 minutes for the chickpeas. Set aside.
3. While the chickpeas and croutons are baking, prep the dressing. Place all dressing ingredients, plus ¾ tsp salt, ½ tsp pepper and ¾ cup water in a blender and blend until completely smooth; about 3 minutes, scraping down the sides with a rubber spatula every now and again. Set dressing aside.
4. Preheat grill to medium-high heat (about 350-400°F), Carefully grease the cooking grates with oil (recommend a brush or a oil-dipped towel). Once the grates are hot, place the halved romaine lettuce cut side down on the grill. Press the lettuce down to ensure entirety of the lettuce is touching the grates.
5. Optional, place halved lemons flesh-side down on grill and cook for 1 minute. Grill until lightly charred, about 1-2 minutes. Flip and grill for another 1-2 minutes. Remove from grill.6. Top lettuce halves with chickpeas, crouton. Drizzle with dressing, sprinkle with nutritional yeast and a drizzle of lemon. Enjoy!
Related Posts
The Autumn Equinox is only a few days a way and there's no better way to celebrate than by making and enjoying some fall-inspired, cozy treats!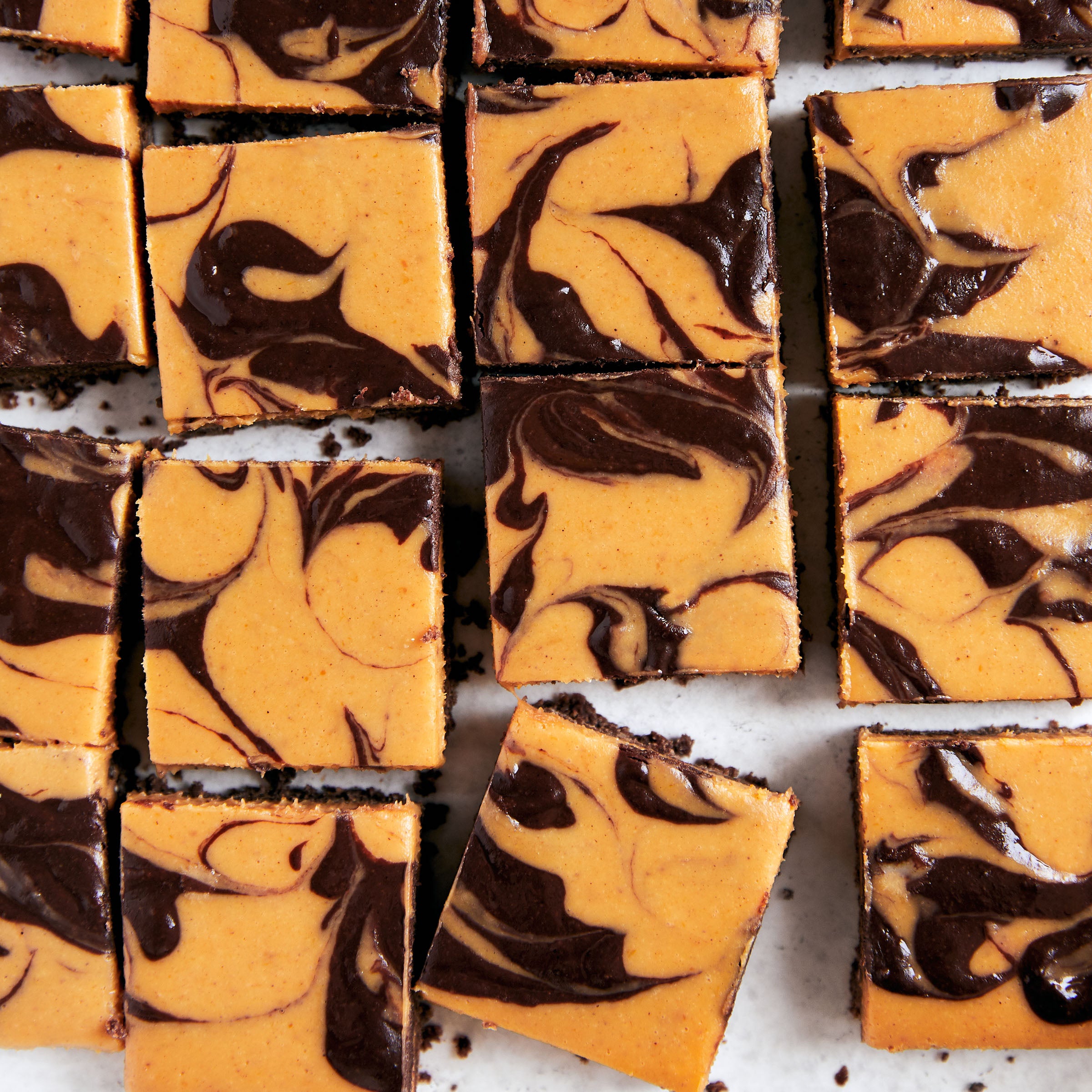 These creamy fudge bars with a Chocolate Sea Salt Probiotic Granola crust have just the right amount of pumpkin spice.