Snickers Bars
Gluten-Free, Vegan // Makes 10 Bars
A childhood favorite reimagined by @feastingonfruit. You can feel good about indulging in this delicious treat!
Prep time: 40 mins
JUMP TO RECIPE
INGREDIENTS
Nougat
1 1/2 Cups Purely Elizabeth Original Superfood Oatmeal
3/4 cup peanut butter
2 tbsp maple syrup
1/4 cup coconut oil
1/4 tsp salt

Caramel
1 cup coconut cream
3/4 cup cane sugar or coconut sugar
2 tsp vanilla extract
1/2 tsp salt

Bar
1 cup Purely Elizabeth Original Ancient Grain Granola
½ cup roasted peanuts
8oz dark chocolate, melted
DIRECTIONS
1. Line an 8x5" pan with parchment paper and set aside.
2. In a food processor, pulse the oatmeal until finely ground.
3. Add the peanut butter, maple syrup, coconut oil, and salt. Process until combined and sticky.
4. Press into the lined pan and freeze.
5. In a small saucepan combine coconut cream, salt, and sugar over medium high heat. Stir until sugar is warmed and dissolved.
6. Bring to a boil, and boil stirring frequently for 12-15 minutes until caramelized and thickened.
7. Remove from the heat, stir in the vanilla, and cool 5-10 minutes.
8. Pour on top of the nougat layer and spread evenly.
9. Top with peanuts and granola, pressing in slightly.
10. Freeze overnight. Then remove from the pan and cut into 10 bars.
11. Coat each in melted dark chocolate, refrigerate until chocolate is set, then enjoy!
Related Posts
The Autumn Equinox is only a few days a way and there's no better way to celebrate than by making and enjoying some fall-inspired, cozy treats!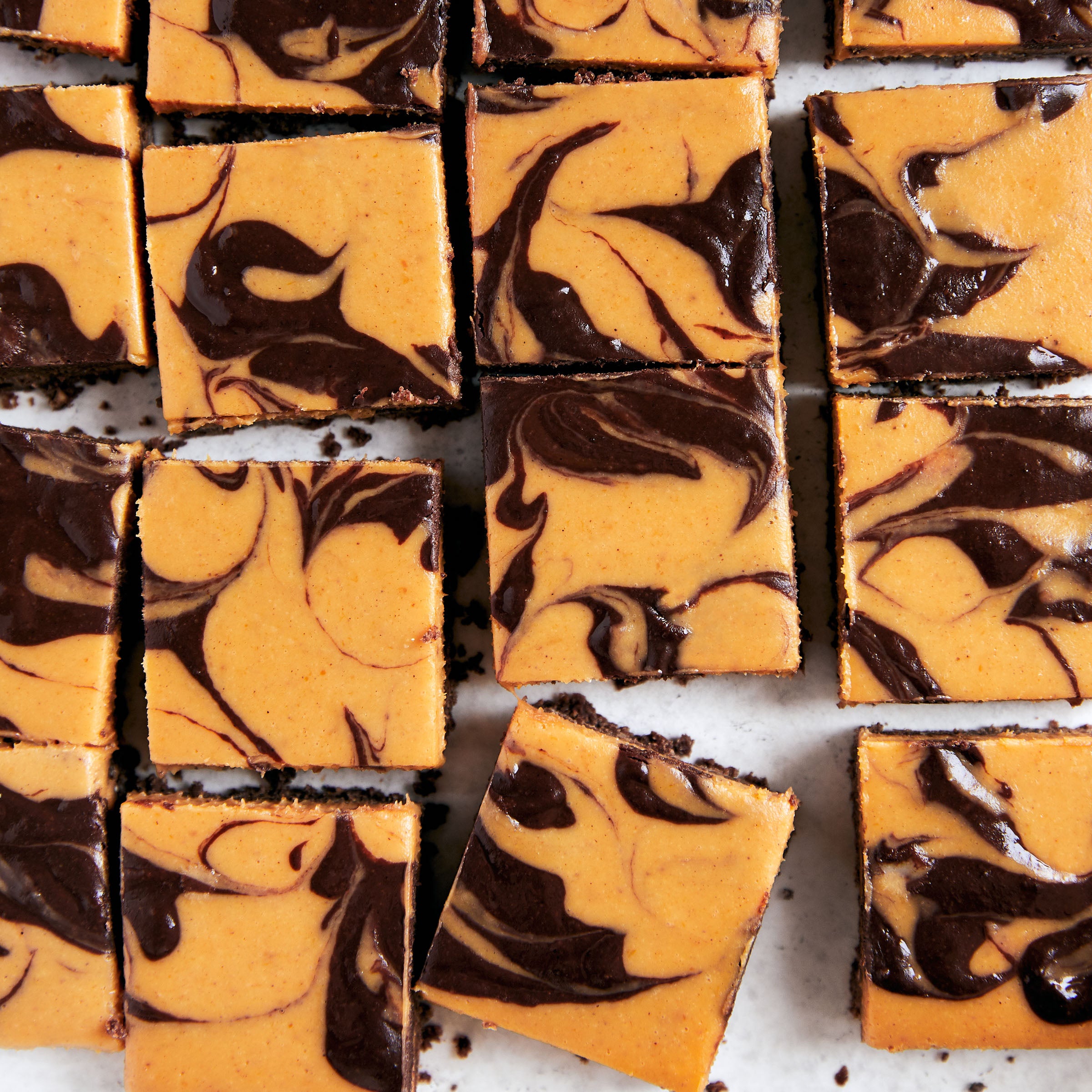 These creamy fudge bars with a Chocolate Sea Salt Probiotic Granola crust have just the right amount of pumpkin spice.