Mini Granola Cheesecake Tarts
grain-free // gluten-free // vegan
Fresh floral, floral vibes and crisp, bright flavors— things we love about spring and High Tea! In the spirit of spring and Mother's Day, we decided to put a Purely twist on the British classic with the help of some influencers from the Purely community. These Mini Granola Cheesecake Tarts with Matcha, Lemon, and Strawberry + Cream filling by Alice Pagés (AKA @alicepages) are vegan, gluten-free, grain-free and, last but not least, TASTY.
Ingredients
Granola Crust
1 bag of Purely Elizabeth Chocolate Hazelnut Grain-free Granola + MCT oil (230 g)
1/4 cup coconut oil, melted (30 g) Cheesecake filling - 2 cups raw cashews (260 g)
1/2 cup full-fat coconut cream, scooped out from a can of coconut milk placed in fridge (120 g)
2 tbsp maple syrup
1 tbsp lemon juice
1 tbsp coconut oil, melted (15 g)
1/8 tsp sea salt
Matcha Variation (makes 3)
1/2 tsp green tea matcha powder
1/8 tsp ground cardamom
Raspberries
Pistachio Lemon Variation (makes 3)
1 tsp lemon juice
1/2 tsp turmeric powder
1/4 tsp ginger powder
Lime slices
Coconut chips
Fresh mint leaves
Strawberry and Cream Variation (makes 3)
1 tsp vanilla extract
Strawberries
Fresh mint leaves

Directions
1)Soak the cashews in boiled water for 20 minutes to soften.
2) In the meantime, prepare the crust. Add the granola in a food processor and pulse to break into a fine breadcrumbs consistency. Add the melted coconut oil and quickly pulse to combine. Pour the preparation into 9 mini tart tins or mini muffin tins with removable base. Else line the bottom and the edges with plastic wrap to make it easier to remove the crusts from the tins. Press down firmly the preparation in the tins, using the back of a spoon or your fingers. Place in freezer for 30 minutes to firm.
3) Meanwhile, prepare the cheesecake filling. Drain and rinse the soaked cashews and place into a high speed blender with the coconut cream, maple syrup, lemon juice and salt. Blend until smooth and creamy. Scrape down the sides of the blender as needed. Then add in the melted coconut oil and blend to combine.
4) Divide the cream into 3 equal parts and place into 3 separate bowls. In the first one, add matcha powder and cardamome and quickly blend to combine. In the second one, add lemon juice, turmeric and ginger powder and blend to combine. In the last one, add vanilla extract and blend to combine. Cover the bowls and place into the freezer for 45-60 minutes.
5) When the creams are firm, quickly whip them with a fork and place into 3 different piping bags. Carefully remove the granola crusts from the tins and fill them with the cheesecake creams, forming beautiful swirls. Top with fresh fruit, nuts and mint, and enjoy! Keep in an airtight container in the freezer for up to 1 week.

Download the Purely Spring Magazine below:
Related Posts
The Autumn Equinox is only a few days a way and there's no better way to celebrate than by making and enjoying some fall-inspired, cozy treats!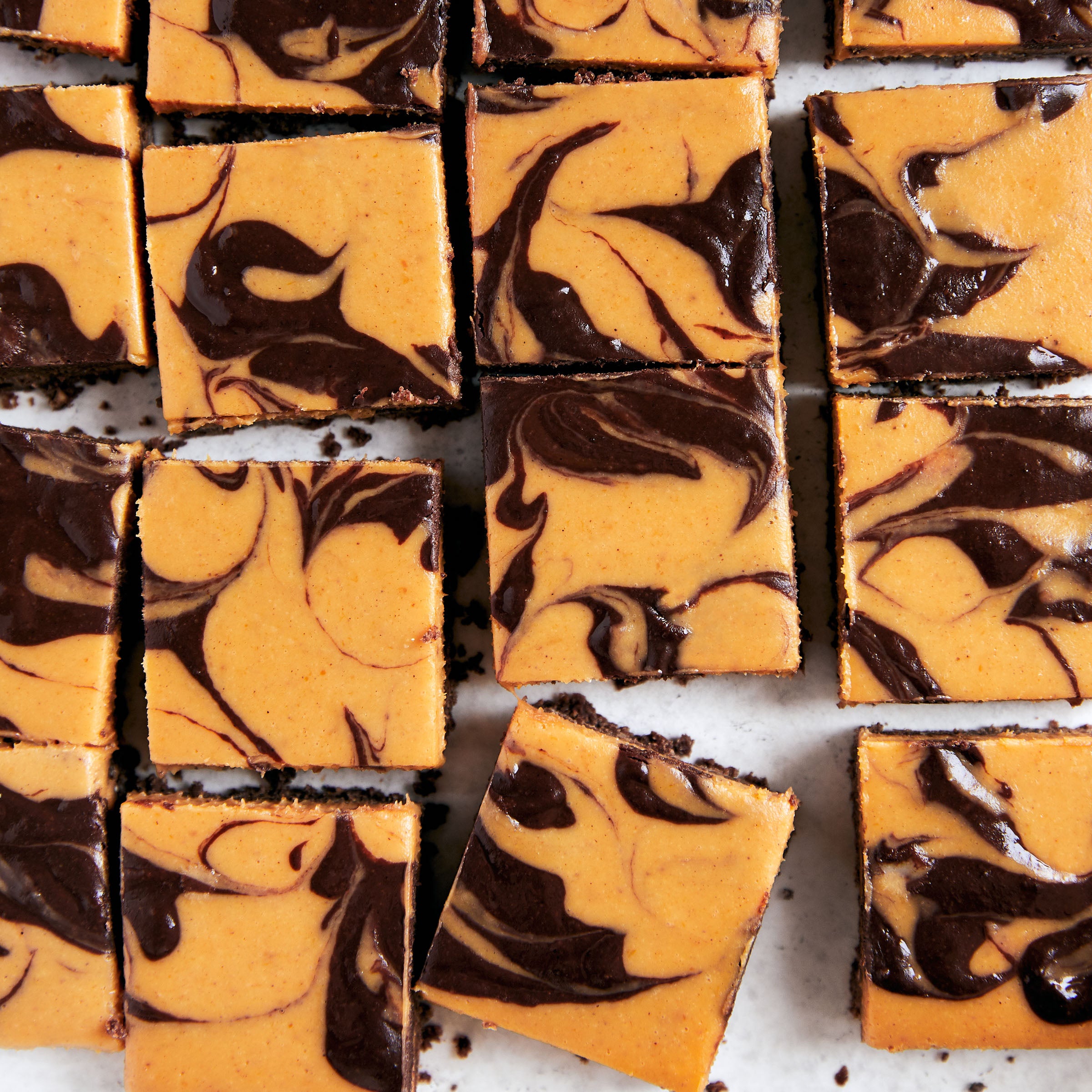 These creamy fudge bars with a Chocolate Sea Salt Probiotic Granola crust have just the right amount of pumpkin spice.