Pumpkin Streusel Bread
gluten-free

This Pumpkin Streusel Bread by @brownedbutterblondie is perfect for keeping you satisfied and fueled to kick off your day!
Ingredients
Pumpkin Bread:
1 2/3 cups gluten free flour
3/4 cup, minus 1 tablespoon coconut sugar
1 tsp baking soda
½ tsp kosher salt
1 tsp cinnamon
½ tsp nutmeg
¼ tsp ground ginger
Dash of cloves
1 cup pumpkin puree
6 TBSP unsalted grass-fed butter, melted and cooled slightly
1/3 cup nut milk
2 eggs, room temperature
1 ½ tsp vanilla

Pumpkin Pecan Streusel:
1/2 cup gluten-free flour
1/3 cup Purely Elizabeth Vanilla Pecan Collagen Protein Oats
8 TBSP coconut sugar
2 TBSP finely chopped pecans, toasted
½ tsp pumpkin pie spice
4 TBSP unsalted grass-fed butter, melted

Directions
Pumpkin Bread
1. Preheat oven to 350 degrees. Spray a 9 x 5 inch loaf pan with non-stick baking spray and line with parchment paper. Allow the ends of the parchment to extend an inch or two over the sides of the pan for easy removal of the loaf. Set aside.
2. In a large bowl, combine flour, sugar, baking soda, salt and spices. Whisk to combine.
3. In a separate medium bowl, stir together pumpkin, cooled butter, milk, eggs and vanilla. Whisk to combine well.
4. Pour the pumpkin mixture into the flour mixture and fold gently with a spatula until just a few streaks of flour remain. Do not over mix.
5. Pour the batter into the prepared loaf pan and gently smooth the top with a spatula.
6. Top generously with the pumpkin pecan streusel and use your hands to gently press it in to the batter.
7. Bake at 350 degrees for 45-50 minutes, checking often at the end of the baking cycle to be sure the streusel topping is not browning too quickly. If needed, cover the top loosely with aluminum foil. The loaf is done when a toothpick inserted into the center comes out clean or with just a few crumbs remaining.
8. Remove the loaf from the oven and cool in the pan for 15 minutes. Use the parchment paper ends to gently lift the loaf out of the pan and cool completely on a wire rack before slicing.

Pumpkin Pecan Streusel
1. To toast pecans, grind them a food processor and then spread out onto a small pan. Heat over medium low heat for about 5 minutes or until fragrant.
2. Combine the flour, oats, sugars, pecans and pumpkin pie spice in a medium bowl. Pour the melted butter over the dry ingredients and use a fork to combine well. Do not over work the streusel, only mixing until there are no more dry bits of flour remaining.

*Bake any extra streusel on a parchment lined cookie sheet for 10-12 minutes at 350 degrees or until lightly golden brown. Cool and store tightly wrapped in a cool, dry place. Use on top of oatmeal, yogurt, muffins, ice cream, etc.

Looking for more pumpkin flavored recipes? Explore other Purely Elizabeth favorites:
● Pumpkin Cobbler
● Pumpkin Lentil Lasagna
● Pumpkin Roll
Related Posts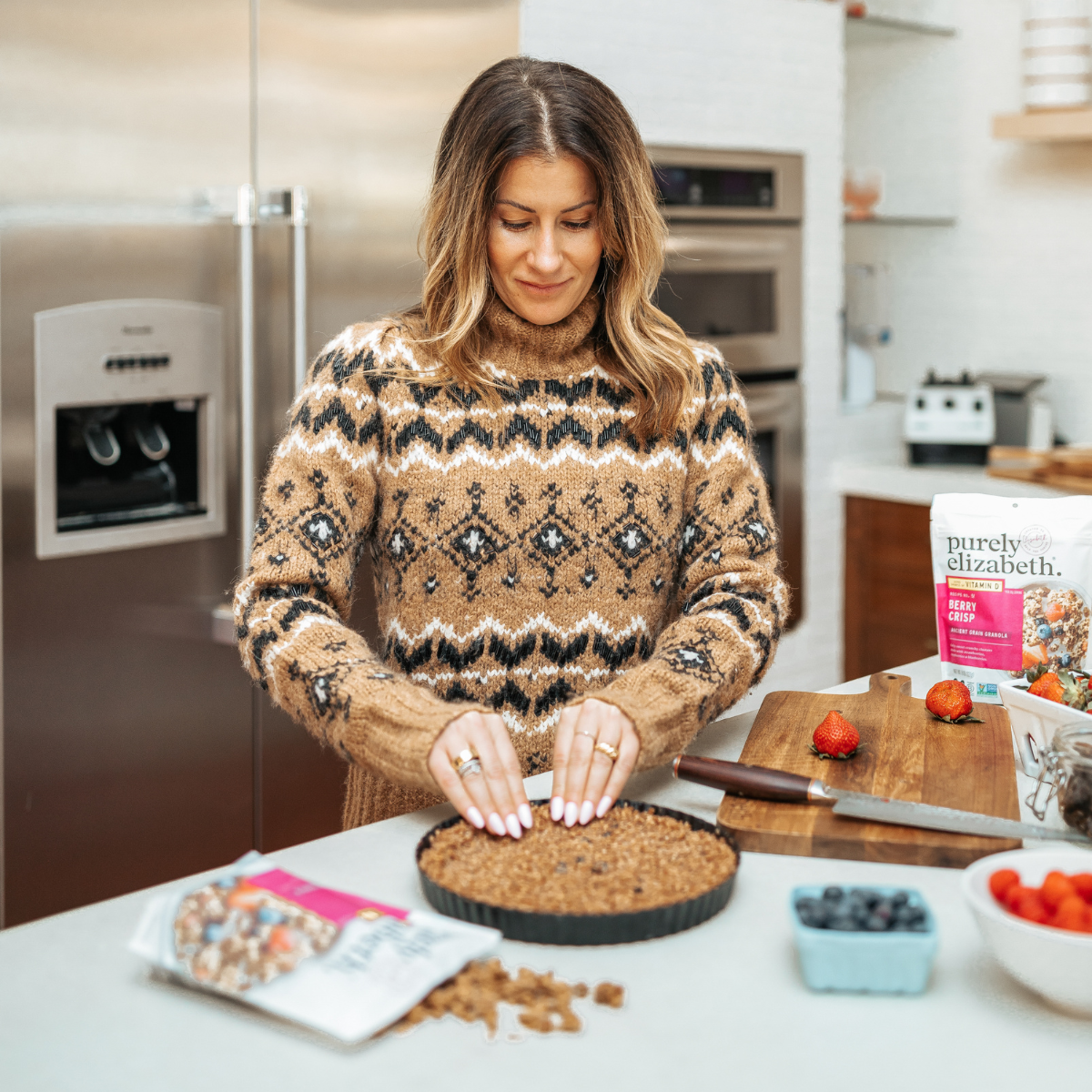 I'm in full on winter mode and these are a few of the things I've been getting cozy with this season.
View Details
Everyone's skin is different, but there are a few things that we can all do to achieve (and maintain) that glowing, dewy skin we're all pining after.
View Details