Purely Spring Magazine 2021:
Talking Gut Health with Dr. Uma Naidoo

In our Spring Magazine and in honor of April being National Stress Awareness Month, we chatted with Dr Uma Naidoo, MD. Harvard-trained Nutritional Psychiatrist, professional chef, nutrition specialist and author of "This is Your Brain on Food.", about how our gut health affects our emotional and physical wellbeing.

You are not only a Harvard trained psychiatrist, but also a professional chef and trained nutrition specialist, can you share with us what led you down those paths?
I wish I could tell you that I had a grand plan, but I really did not. At the age of 5 I was fascinated by space and wanted to be an astronaut! My parents always encouraged my ideas and evolved as I was also surrounded by allopathic medical doctors and ayurvedic practitioners in my family. A very important relationship in my life was my maternal grandmother who was an excellent cook, homemaker and simply brilliant. We would pick fresh vegetables from the garden and I'd watch her prepare meals from scratch every single day. The aroma of delicious Indian spices still fill my senses when I remember that even today. My grandfather taught me to meditate and my mother who is a double boarded physician herself, taught me to bake. When I moved away to study I took my mom's spices and recipes and this began my journeys into cooking. I found it to be a creative and mindful space for me to decompress after long hours of studying. I loved learning the value and nutrition of food too, and followed my gut instinct when it came to things I enjoyed. Having watched my food hero Julia Child on public television in Boston.She inspired me to go to culinary school, as that was her very famous second career. I thought, "why not me?"I was blessed that the aspects of life and work that I loved (psychiatry, culinary arts and nutrition) became the nexus of my work in Nutritional Psychiatry.

You recently came out with a new book, can you tell us what it's about? My book was written to be a guide to cut through the diet wars for those struggling with mental illness or wanting to improve their mental fitness. You don't have to have a diagnosis as the DSM-V classification used in the US simply does not cover everyone. I find that especially now people are suffering in a different way. When you pick up the book you can read the chapter that has meaning to you, but you can also read the recipe chapter with recipes matched to that chapter and the nutrients suggested. I based my book on the vitally important gut-brain connection which has taught us so much about how what we eat impacts our emotional health.

Why is our gut health so important? The gut microbiome contains trillions of microbes that live in your gut helping you with your overall health from immunity, to hormone balance, to the impact on mental health, to digestion, and more. The gut is becoming increasingly more pivotal to all our bodily functions, almost being a connector between our brain, our hormones, our immune system, our blood circulation - think of our gut as the body's Grand Central Station allowing for connections of our bodily systems.

What's one thing that surprised you most when learning about gut health? That many doctors who went to med school a few decades back learned little to nothing about gut health except for gastric ulcers! The research has really come forth in the last 15 years or so.

How is our gut health related to our mental and emotional wellbeing? The gut and brain are connected as they arise from the exact same cells in the embryo so these 2 organs have the same exact origin. Then they remain connected throughout life by the 10th cranial nerve called the vagus nerve which acts like a 2-way super highway working 24/7 to allow for the flow of chemical messages between these 2 organs. Also many of us have heard of SSRI medications like prozac or zoloft which help to treat mood, anxiety and more. But more than 90% of serotonin receptors are in the gut. When you realize all these connections it may become easier to understand that food can impact our mood by how we eat.

If you could advise your clients to make one lifestyle change that might improve their gut health, what would that be? Pay attention to fiber rich foods in your diet as we do not eat nearly enough of it. Fiber is what nurtures and feeds the good microbes in your gut, so eat enough to ensure your better gut health. You can get fiber from vegetables, fruit, leafy greens, beans, nuts, seeds, legumes and healthy whole grains. (If you have IBS, Crohn's or SIBO you would need to first speak to your GI doctor first)

If you could advise your clients against a habit that might negatively affect our gut health, what would that be? Avoid added and refined sugars which feed the bad microbes. When the bad guys in your gut thrive on the sugar you feed them, they overcome the good guys and you end up with gut inflammation which leads to worsening mental health symptoms among other health problems like a leaky gut.

Are there any foods or supplements that you recommend to improve or maintain gut health? If you have found a good probiotic supplement that you like, then by all means take it. You can also eat plain dairy or non-dairy yoghurt with live active cultures or eat more fermented foods (miso, kimchi, plain kefir, kombucha)

April is National Stress Management Month, and with your mood directly affecting your gut health, what are some tips you can provide to our readers on ways to start your day stress free (or to reduce your levels of stress!) Have a morning routine that is calming and helps you ease into your dayKeep a gratitude journalChant Om to yourself which helps vagal tone and can be calming Spend a few minutes journaling and mediating when you awake (and before checking your smartphone)Drink a glass of water to make up for any overnight dehydrationConsider doing a fasted workout Have some breakfast options prepared to take the guesswork out of a healthy option like mini frittata or a chia puddingSpend a few minutes outdoors, get at least 10 minutes of sunshine or time outdoors before diving into your day remember to take a deep breath, which is more powerful than you realized.Try to add turmeric with a pinch of pepper to your salads, smoothies and teas. This anti-inflammatory spice has shown to improve symptoms of anxiety and stress.
Download the Purely Spring Magazine below:
Related Posts
The Autumn Equinox is only a few days a way and there's no better way to celebrate than by making and enjoying some fall-inspired, cozy treats!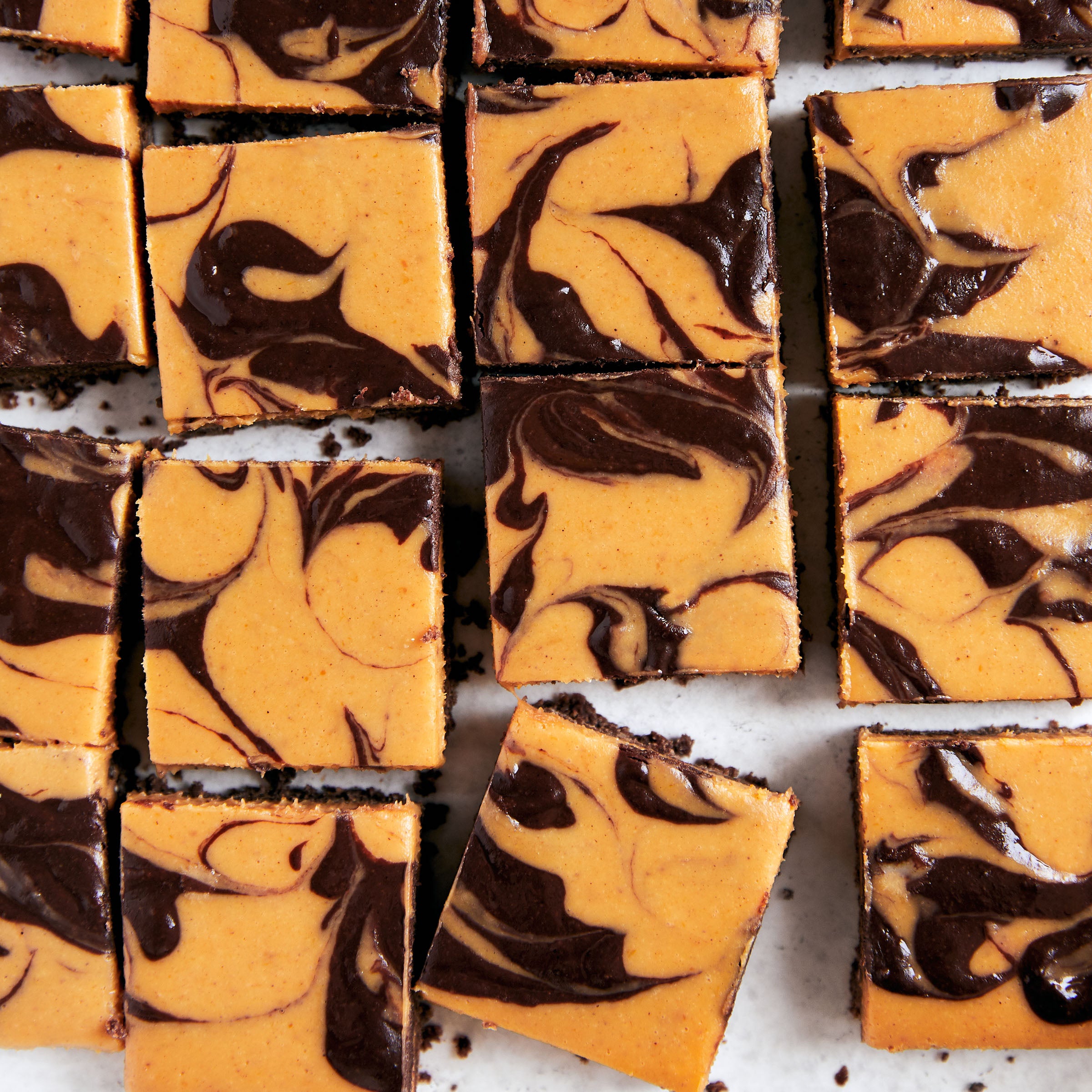 These creamy fudge bars with a Chocolate Sea Salt Probiotic Granola crust have just the right amount of pumpkin spice.