S'mores Skillet
Gluten-Free // Makes 1
A decadent summer dessert by @feastingonfruit that will keep you coming back for s'more!
Prep time: 15 min
Cook time: 25 min
JUMP TO RECIPE
INGREDIENTS
Crust
1 bag of Purely Elizabeth Original Ancient Grain Granola
⅓ cup coconut oil
8-9 inch cast-iron skillet (cake round, baking dish)

S'mores
1 egg (or sub flax egg*: 3 tbsp water, 1 tbsp ground flaxseed)
1 tbsp unsweetened nut milk
3 tbsp maple syrup
1/4 cup melted coconut oil
1/3 cup cashew butter (or sub any nut or seed butter)
1 tsp vanilla extract
1 cup almond flour
1/2 tsp cinnamon
1/4 tsp baking soda
¼ tsp salt
½ cup Lily's Dark Chocolate Chips
10 marshmallows
DIRECTIONS
1. Place granola and coconut oil in a food processor and process on high for 1-2 minutes, or until granola begins to break down into fine pieces.
2. Lightly spray your cast iron skillet with coconut oil. Pour crust mixture into skillet and pat down to make an even layer. This will be your graham cracker crust. Place in the freezer while you make your cookie dough base.
3. Preheat the oven to 325°F.
4. Whisk egg* in a large bowl, then pour in maple syrup, melted coconut oil, nut butter, vanilla and almond milk, and whisk to combine. *If using flax egg, mix 1 tbsp ground flaxseeds with 3 tbsp water & let sit for 5 minutes before adding to recipe in place of egg.
5. In a small bowl, mix together almond flour, baking soda, cinnamon and salt. Add dry mixture to wet mixture and mix until well combined. Fold in ¼ cup chocolate chips.
6. Remove skillet from freezer and sprinkle remaining ¼ cup chocolate chips. Cut 4 marshmallows into ⅛ pieces and scatter them over the chocolate chip layer. Next, layer the cookie dough mixture over the chocolate chips and marshmallows. Press remaining whole marshmallows onto cookie dough layer.
7. Place on the middle rack in the oven and bake for 20-25 minutes. Then, turn the oven on broil and bake for 1-1 1/2 additional minutes (keep a close eye on it because it can burn quickly).
Related Posts
The Autumn Equinox is only a few days a way and there's no better way to celebrate than by making and enjoying some fall-inspired, cozy treats!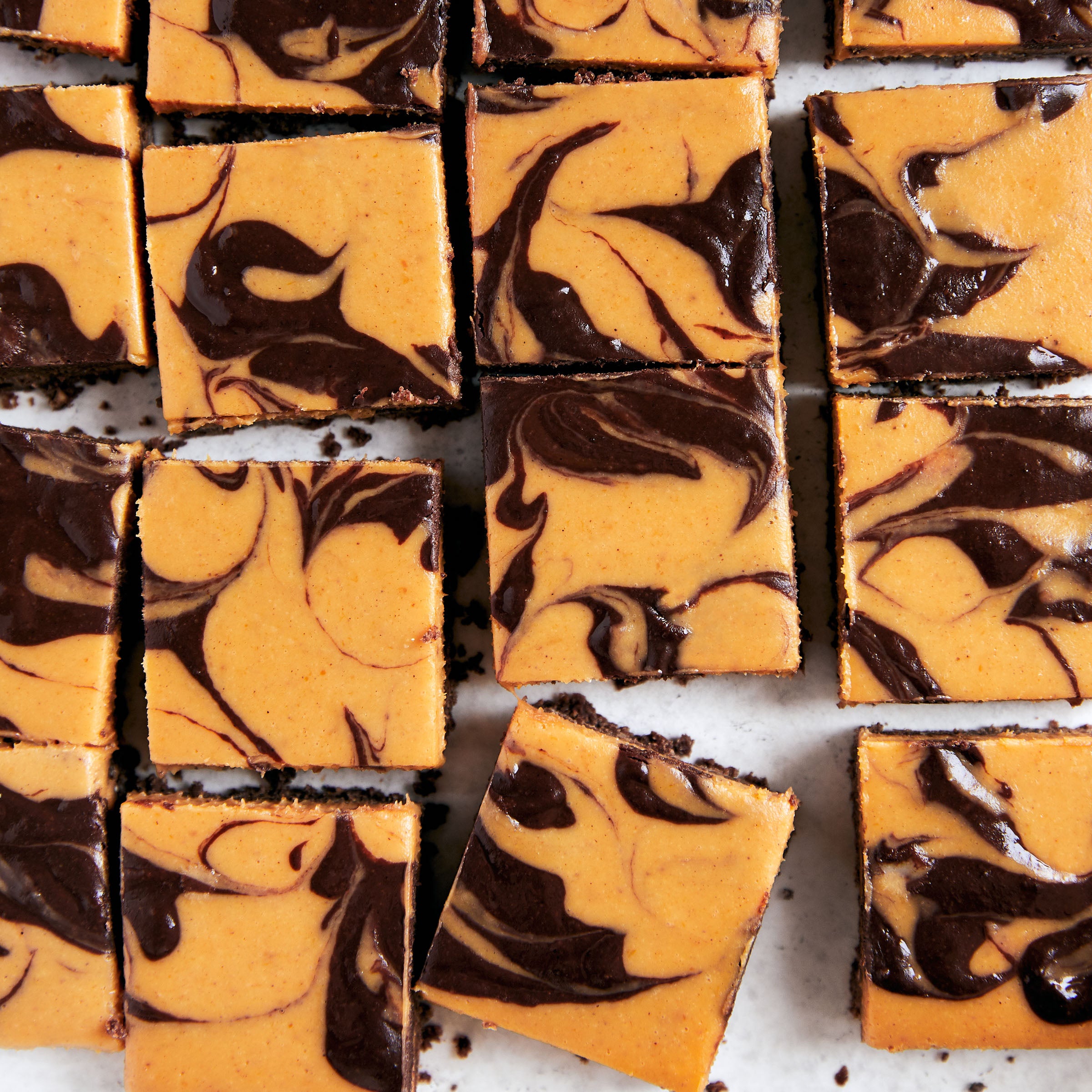 These creamy fudge bars with a Chocolate Sea Salt Probiotic Granola crust have just the right amount of pumpkin spice.