Thrive on Your Wellness Journey:
#1 Non-negotiables from
the Guests of Live Purely Season 3
I can't believe that we wrapped up our 3rd season of the Live Purely Podcast. I've had the honor of interviewing some really incredible people. One question I love to ask all my podcasts guests is "What is your #1 non-negotiable to thrive on your wellness journey?" and the answers have all inspired me. Keep reading to see what each guest from this season said (and if you haven't listened yet, all links are below too!)
Ep 1 | Building the Next Generation of Cleansing and Health with Lisa Odenweller, the CEO and Founder of Kroma Wellness
"Exercise! I will always move. I've been moving since I was a little girl. And even when. I don't have time I will make time. At least 5 days a week, no matter what." - Lisa Odenweller

Check out Kroma Wellness and use code PURELY10 for 10% off.

Ep 2 | Making Modern Holistic Medicine Accessible to Everyone with Dr. Robin Berzin, Founder & CEO of Parsley Health
"Food. I will go out of my way and not eat the bad thing, I will do anything, I will get creative." - Robin Berzin
Ep 3 | Emotional Cleansing and Choosing the Path of Wellness with Elissa Goodman
"Everyday I'm going to wake up and be grateful for where I'm at in my life and how much I've overcome." - Elissa Goodman
Ep 4 | Sculpt Out the Life of Your Dreams With Megan Roup, Founder of the Sculpt Society
"Movement is my meditation. The power of movement and I'm not talking hours a day, I mean 10 minutes of moving my body is truly transformative. It's just showing up for yourself and doing it." - Megan Roup
Ep 5 | Creating Your Own Lane in Content Creation with Rachel Mansfield
"Walking. Morning walks or massages. Massages are the best things in the world." - Rachel Mansfield
Ep 6 | Starting Small, Embracing Inclusivity, and Making Time for Family With Denise Woodard, CEO & Founder of Partake Foods
"Time with my family and friends. I really think it does wonders for my mental health. Really taking the time to get away from my phone or computer and be in the moment with my daughter, husband, and our close friends is really important to me." - Denise Woodard

Check out Partake Foods and use code LIVEPURELY15 for 15% off.
Ep 7 | Making Healthy Food More Accessible with Sam Kass
"High quality food."- Sam Kass
Ep 8 | Getting Loved Up, Having Healthy Boundaries, and Why Fear Can Be Your Friend with Koya Webb
"Healthy boundaries and self care. I know that if I have healthy boundaries and I practice self care that I'm going to the most beneficial person on this planet, the most beneficial Koya that I can be. - Koya Webb
Ep 9 | Launching Golde, Knowing Your Why, and Advice for Young Founders with Trinity Mouzon Wofford

"Not checking your phone at night. Put your phone in another room. Out of sight, out of mind." - Trinity

Check out Golde and use code LIVEPURELY15 for 15% off.
Ep 10 | Respecting Your Time, Launching The Honey Pot, and Enjoying the Journey with Beatrice Dixon

"My time. I respect my time a lot, I don't like to waste it. " - Beatrice Dixon

Check out The Honey Pot and use code PURELY20 for 20% off.


Ep 11 | Why This Top Celebrity Facialist and Skin Care Guru Doesn't Wash Her Face In The Morning with Angela Caglia
"Being around people who are kind." - Angela Caglia
Ep 12 | Award-Winning Restauranteur and Sommelier on Hospitality and Helping Independent Restaurants with Bobby Stuckey
"Getting in a run in often. I've been doing this since I was 7, I'm in my 50s. My dad is in his 70s and he still runs. It's a part of our family's DNA." - Bobby Stuckey
Ep 13 | Living Your Best Life and Pioneering a New Type of Meditation with Mimi Bouchard, Founder & CEO of Superhuman
Take 100% responsibility for your life. It's the core. You can't have anything you want in life until you take responsibility for what you've already created. Also, learning. Taking time everyday to learn. Expanding your mind and growing. " - Mimi Bouchard
Ep 14 | Pioneering in Plant Based Food and Learning to Say No with Lindsey Cunningham, CEO & Co-founder of RollinGreens
"I've always protected my Sundays. It all has to be about enjoyable things for me whether it's food or working out or sleeping all day whatever I want to do, I don't want to be around other people, I just want to do me. And that's my Sundays. I would say protect one day out of the week for yourself" - Lindsey Cunningham

Check out RollinGreens and use code PurelyRollinGreens for 20% off.
Ep 15 | Combating Climate Change and Fighting Food Waste with Justin Kamine, Co-Founder of Do Good Foods
"Integrity and honesty." - Justin Kamine
Ep 16 | How This PR Mogul Balances Being a CEO, Mama of Four, and the Evolving Cannabis Industry With Rosie Mattio
"Working out 5 days a week. For me, it's a lot about mental clarity. I can't function at work unless I'm taking care of my body." - Rosie Mattio
Ep 17 | Shooting Your Shot with Influencers and Creating Deux with Sabeena Ladha
"Sleep. If I get less than 7 hours of sleep, I suck at everything. I can't have conversations, I can't pitch, I can't answer emails. I'm just in a dead hole. I try to get between 8 and 8 and a half hours a night." - Sabeena Ladha

Check out Deux and use code PURELY for 20% off.

Ep 18 | Planting the Seed for a Healthy Microbiome and a Happy Gut with Ara Katz, Co-Founder & Co-CEO of Seed Health
"Non attachment. That's the best thing I've ever learned in my life. Attachment is the root of suffering. Whether it's to your morning matcha to what you think should be, what you think health is, what you think success is. All of it is unnecessary and the most defeating to what your goals are for yourself and your wellness and your health. " - Ara Katz
Related Posts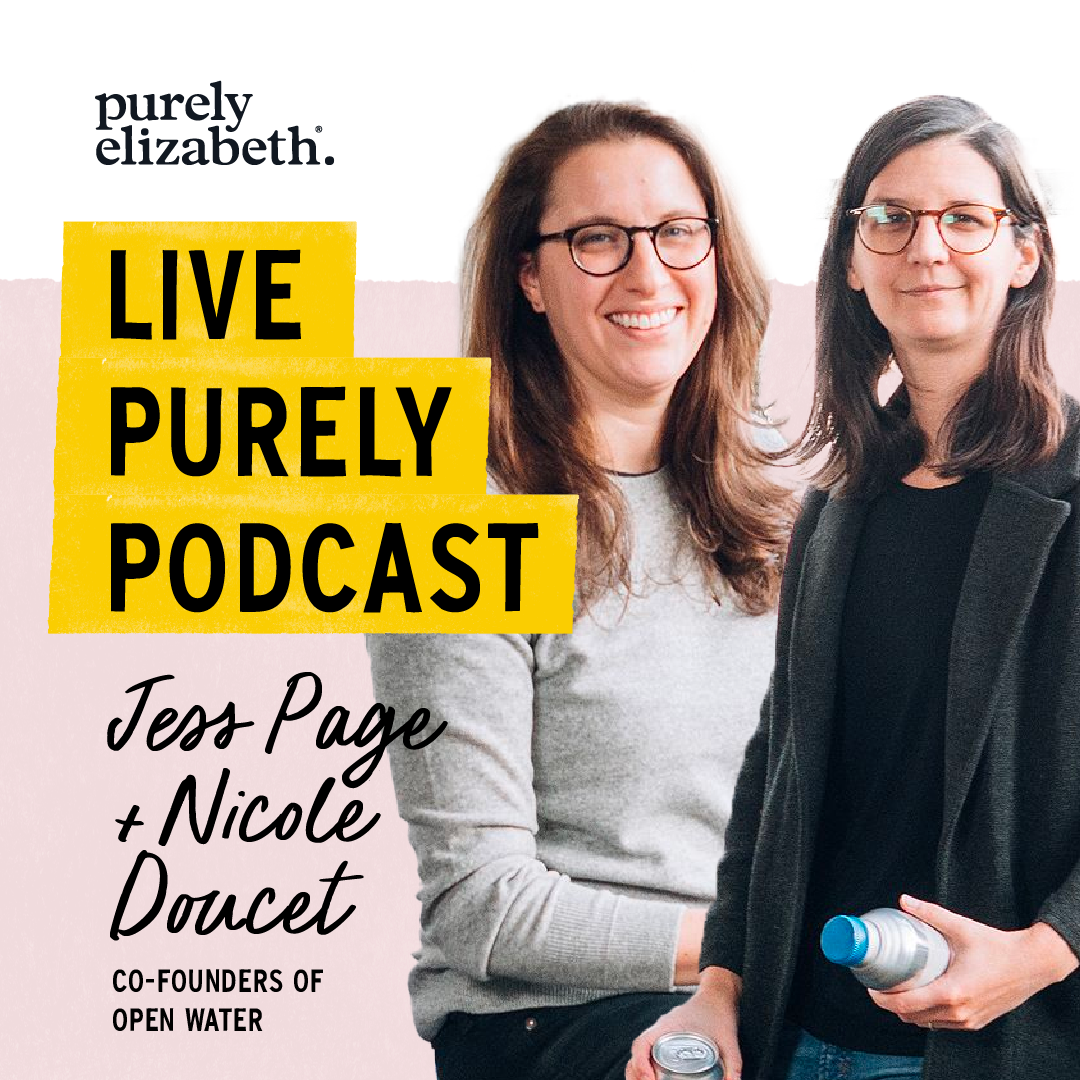 Building a Climate Neutral Company and Changing the Tide of Water
View Details
The Autumn Equinox is only a few days a way and there's no better way to celebrate than by making and enjoying some fall-inspired, cozy treats!
View Details