Healthy Pop Tarts
gluten-free // vegan

If you loved pop-tarts as a kid, you'll love this healthy, vegan, and gluten-free version with better for you ingredients.
Ingredients
Pop tart:
2 cups Grain-Free Pancake & Waffle Mix  
1/2 cup tapioca starch  
1/2 tsp salt
1 cup butter, cold
1 flax egg (1 tbsp flax meal + 3 tbsp water) or 1 egg
2 tbsp almond milk

Filling:
1 1/2 cup strawberries, chopped
3 tbsp maple syrup
2 tbsp lemon juice  
1/2 tbsp tapioca starch

Glaze:
⅔ cup powdered monk fruit sweetener
2 tbsp powdered strawberries
2-3 tsp almond milk
Sprinkles for topping

Directions
1. Place the pancake mix, tapioca starch, and salt into a food processor. Pulse to combine.

2. Add in the chopped cold butter, flax egg and milk. Pulse until crumbles form. It's okay, if there's still chunks of butter.

3. Press the dough into a ball and then press it flat into a disc. Cover with plastic wrap and chill in the refrigerator for 20 minutes.

4. Meanwhile, place the strawberries, maple syrup, and lemon into a small saucepan over medium heat. Cook for 5-10 minutes and strawberries are tender. Use an immersion blender to emulsify the strawberries.

5. Remove from heat and stir in the tapioca starch.

6. Preheat oven to 350°F

7. Place a large piece of parchment paper onto your workspace and then dust with tapioca starch. Roll the dough out until it's roughly ⅛ inch in thickness. Cut it into 8 evenly sized rectangles and place them on a large baking sheet. Re-roll the dough scraps and cut out 8 more rectangles.

8. Distribute the filling between 8 of the rectangles. Cover with remaining rectangles and use a fork to crimp the edges. Use a toothpick to prick holes in the pastry to let air escape while baking.

9. Brush pastry with almond milk and bake for 12-13 minutes and golden brown. Let cool.

10. Whisk together the glaze ingredients, top with sprinkles, and serve.
Liquid error (sections/pf-5c8d9cc9 line 49): product form must be given a product
Related Posts
The Autumn Equinox is only a few days a way and there's no better way to celebrate than by making and enjoying some fall-inspired, cozy treats!
View Details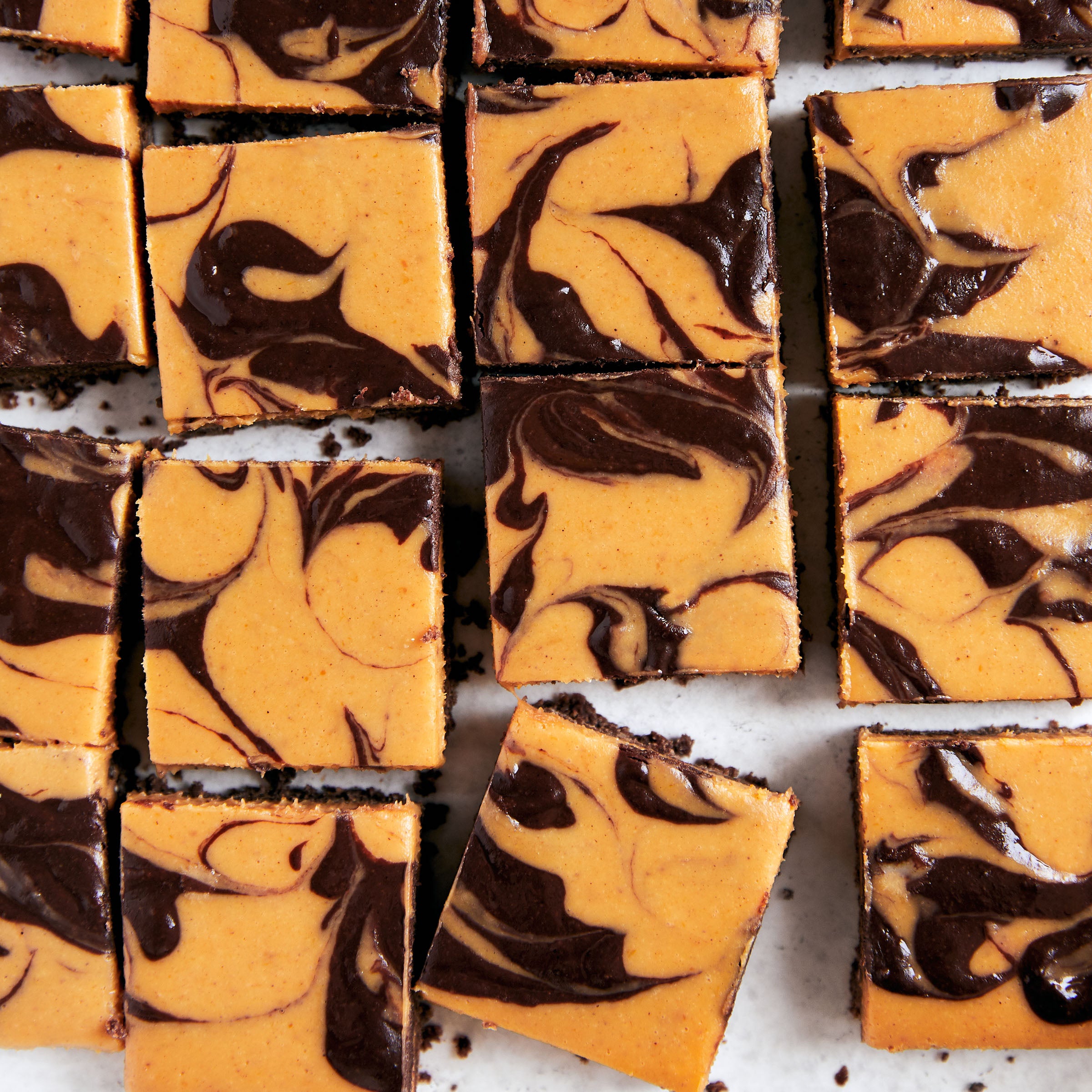 These creamy fudge bars with a Chocolate Sea Salt Probiotic Granola crust have just the right amount of pumpkin spice.
View Details