Cinnamon Almond Cauli Hot Cereal
$10.99
All
NEW
! Cauli Hot Cereal in a 7oz pouch - Perfect for daily use.
Made with nutrient-dense ingredients perfect for any time of the day
Packed with freeze-dried cauliflower, coconut, chia, + flax
Cinnamon, rich in antioxidants, paired with Almonds provides a protein-packed start to your day
Lightly sweetened with Coconut Sugar
Plant-based powerhouses with 8g Protein from Almond Protein Powder + 12g Net Carbs
Certified Gluten-Free + Vegan
Grain-Free + Non-GMO Project Verified
Available Exclusively on PurelyElizabeth.com + Whole Foods Market.
Warm aromas of Cinnamon and Almond make up this grain-free hot cereal made with freeze dried diced cauliflower. Prepare just like instant oatmeal with hot water or in the microwave for a warm breakfast. For overnight oats, simply stir in your favorite nut milk and refrigerate overnight. This hot cauliflower cereal tastes like oatmeal – with half the net carbs!

INGREDIENTS
Almond Protein Powder, Organic Coconut Flakes, Almonds, Freeze Dried Cauliflower, Organic Coconut Sugar, Freeze Dried Banana, Organic Chia Seeds, Organic Flax Seeds, Organic Cinnamon, Organic Coconut Milk Powder (Organic Coconut Milk, Organic Tapioca Maltodextrin, Organic Gum Acacia).
NUTRITION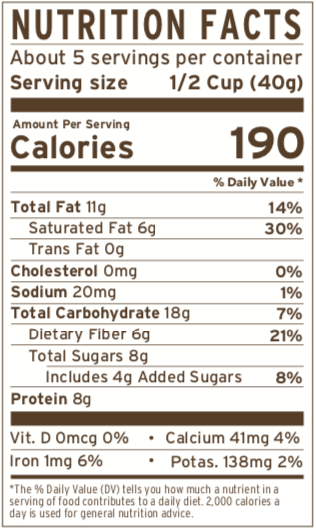 WHAT'S INSIDE
PREP
Hot Water: Add boiling water to fill line. Stir well. Let steep 4-5 min.
Microwave (times may vary): Add water to fill line. Cook for 60 seconds. Stir well.
Overnight "Oats": Add cold milk to fill like. Stir well and cover. Let soak for 4+ hours or overnight in the fridge.