A blend of nuts + superfood seeds combines with pumpkin spice for irresistible grain-free clusters. For an extra nutrient boost, we've added Ashwagandha, a powerful adaptogen and ancient medicinal herb. Our grain-free pumpkin granola is also certified gluten-free.
Powered by Ashwagandha
Ashwagandha is an ancient herb that's been used for thousands of years in Ayurvedic medicine
Paleo-Friendly
Certified Gluten-Free
Certified Vegan
Non-GMO Project Verified
Certified Organic by Organic Certifiers
Sweetened with Coconut Sugar, a Low-Glycemic Sweetener
Baked with Coconut Oil
INGREDIENTS
Organic Pumpkin Seeds, Organic Sunflower Seeds, Cashews, Organic Coconut Sugar, Organic Raw Virgin Coconut Oil, Organic Coconut Flakes, Almond Meal, Organic Chia Seeds, Cashew Butter, Cinnamon, Vanilla Extract, Sea Salt, Organic Ashwagandha, Nutmeg, Cloves, Ginger.
NUTRITION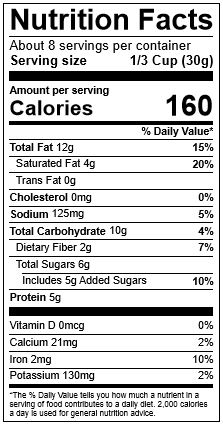 WHAT'S INSIDE