Cinnamon Almond Cauli Hot Cereal Cup
$2.99
Made with nutrient-dense ingredients perfect for any time of the day
Packed with freeze-dried cauliflower, coconut, chia, + flax
Cinnamon, rich in antioxidants, paired with Almonds provides a protein-packed start to your day
Lightly sweetened with Coconut Sugar
Plant-based powerhouses with 8g Protein from Almond Protein Powder + 15g Net Carbs
Certified Gluten-Free + Vegan
Grain-Free + Non-GMO Project Verified
Warm aromas of Cinnamon and Almond make up this grain-free hot cereal made with freeze and dried diced cauliflower. Prepare just like instant oatmeal with hot water or in the microwave for a warm breakfast. For overnight oats, simply stir in your favorite nut milk and refrigerate overnight. This hot cauliflower cereal tastes like oatmeal – with half the net carbs, at only 15 net carbs/serving! Our instant hot cereals are also lightly sweetened with natural coconut sugar.

INGREDIENTS
Almond Protein Powder, Coconut Flakes*, Almonds, Freeze-Dried Cauliflower, Coconut Sugar*, Freeze-Dried Banana, Chia Seeds*, Flax Seeds*, Cinnamon*, Coconut Milk Powder*
Made in a facility that also processes soy, milk, eggs, peanuts and other tree nuts.
NUTRITION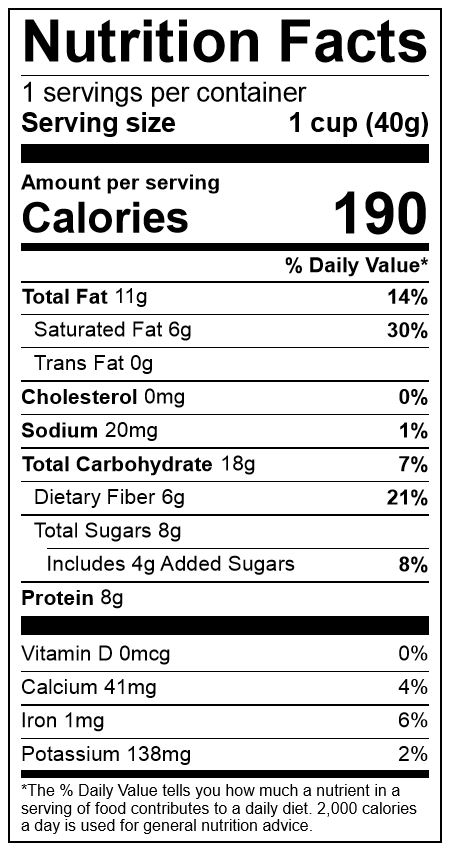 WHAT'S INSIDE
PREP
Hot Water: Add boiling water to fill line. Stir well. Let steep 4-5 min.
Microwave (times may vary): Add water to fill line. Cook for 60 seconds. Stir well.
Overnight "Oats": Add cold milk to fill like. Stir well and cover. Let soak for 4+ hours or overnight in the fridge.