Strawberry Hazelnut Cauli Hot Cereal
$10.99
All NEW! Cauli Hot Cereal in a 7oz pouch - Perfect for daily use.
Made with nutrient-dense ingredients perfect for any time of the day
Packed with freeze-dried cauliflower, coconut, chia, + flax
Added Strawberries + Hazelnuts for a sweet, crunchy bite
Lightly sweetened with Coconut Sugar
Plant-based powerhouses with 8g Protein from Almond Protein Powder + 12g Net Carbs
Certified Gluten-Free + Vegan
Grain-Free + Non-GMO Project Verified
Available Exclusively on PurelyElizabeth.com + Whole Foods Market.
Notes of sweet strawberry and hazelnuts, our grain-free hot cereal is made with freeze dried cauliflower. Prepare just like instant oatmeal with hot water or in the microwave for a warm breakfast. For overnight oats, simply stir in your favorite nut milk and refrigerate overnight. Cauliflower porridge tastes like oatmeal – with half the net carbs!

INGREDIENTS
Almond Protein Powder, Organic Coconut Flakes, Organic Coconut Sugar, Freeze Dried Cauliflower, Hazelnuts, Freeze Dried Strawberries, Organic Chia Seeds, Organic Flax Seeds.
NUTRITION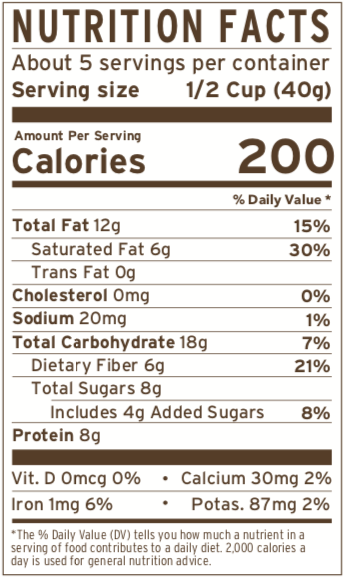 WHAT'S INSIDE