Apple Cinnamon Pecan Superfood Oats
$5.99
Certified Gluten-Free + Vegan
Non-GMO Project Verified
Certified USDA Organic
No Sugar Added
No fake, artificial flavoring in our apple cinnamon instant oatmeal! Our Organic Apple Cinnamon Pecan is made with real organic dried apples, pecans and a dash of cinnamon for a warm and satisfying treat. Combined with organic quinoa, amaranth and flax, this superfood blend packs 9g of protein and 7g of fiber. Enjoy with a drizzle of maple syrup or a handful our Ancient Grain Granola for a salty-sweet crunch.

INGREDIENTS
Organic Gluten-Free Oats, Organic Dried Apples, Organic Pecans, Organic Flax Seeds, Organic Quinoa Flakes, Organic Puffed Amaranth, Organic Cinnamon.
Made in a facility that also processes soy, milk, eggs, peanuts and other tree nuts.
NUTRITION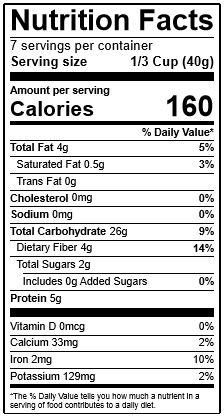 WHAT'S INSIDE
PREP
Microwave: Combine 2/3 cup of water or milk and 1/3 cup of oatmeal. Microwave for 1-2 minutes.
Stove Top: Bring 2/3 cup of water or milk to a boil in a small saucepan. Stir in 1/3 cup of oatmeal and reduce heat to low. Cook for 1-2 minutes.
Overnight Oats: Combine 1/3 cup of oatmeal with 1/3 cup of milk. Let sit for 15 minutes (or overnight) in the fridge to allow oats to thicken.