Chocolate Sea Salt Probiotic Ancient Grain Granola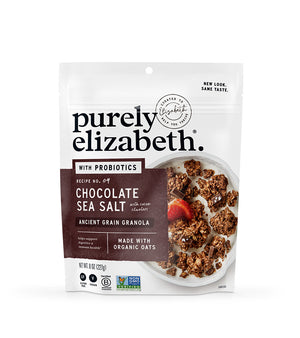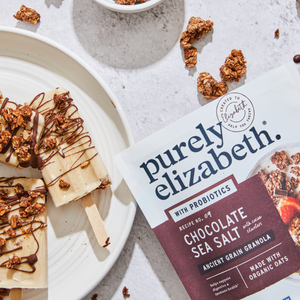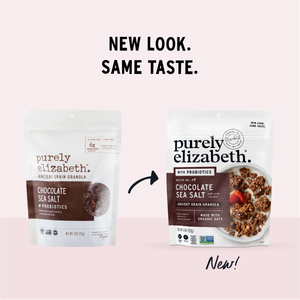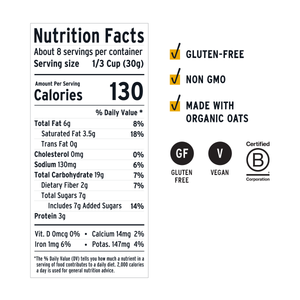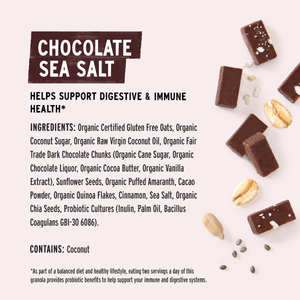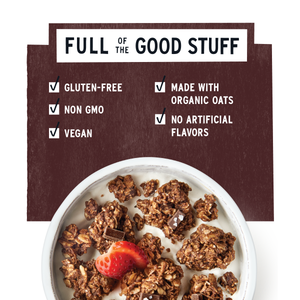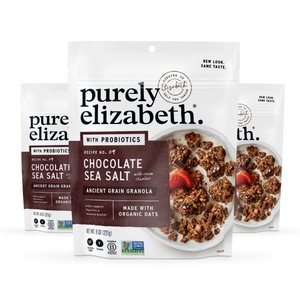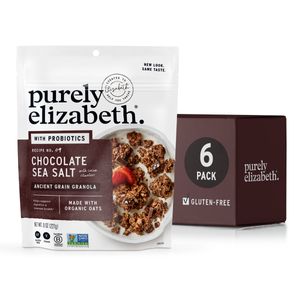 Chocolate Sea Salt Probiotic Ancient Grain Granola
PRODUCT DESCRIPTION
Our Chocolate Sea Salt Probiotic Granola combines
fair-trade dark chocolate chunks and coarse sea salt with ancient grains and superfood seeds for an irresistible salty-sweet flavor and texture. 
BENEFITS
INGREDIENTS
Organic Gluten-Free Oats, Organic Coconut Sugar, Organic Raw Virgin Coconut Oil, Organic Fair Trade Dark Chocolate Chunks (Organic Cane Sugar, Organic Chocolate Liquor, Organic Cocoa Butter, Organic Vanilla Extract), Sunflower Seeds, Organic Puffed Amaranth, Cacao Powder, Organic Quinoa Flakes, Cinnamon, Sea Salt, Organic Chia Seeds, Probiotic Cultures (Inulin, Palm Oil, Bacillus Coagulans GBI-30 6086).
Contains: Coconut⎮Made in a facility that also processes soy, milk, eggs, peanuts, and other tree nuts.
WHAT'S INSIDE
Intentional Ingredients
Coconut Sugar
Packed with essential vitamins and minerals such as potassium, magnesium, zinc, iron, and B vitamins.
Amaranth
A grain that contains the amino acid lysine, calcium, and b vitamins.
Chia Seeds
This powerful superfood is known for its omega-3 fatty acids, fiber, and complete protein contents.
Quinoa Flakes
A complete protein that also provides a mighty boost of magnesium, iron, copper, and phosphorus.
Irresistible Taste. Intentional Ingredients.
Why Coconuts? 🥥 We use the natural, nutritious power of coconuts to both sweeten and bake our products. By doing so, we can stay away from refined sugars and artificial flavoring while keeping your tastebuds happy.
The Purely Difference
When you eat better, you feel better. It's that simple. That's why our #1 priority is to source the highest-quality ingredients that not only taste amazing but also provide the nutritional benefits you need to fuel your day.