Sale
GRAIN-FREE PROTEIN + COLLAGEN BREAD & MUFFIN MIX
$6.99
This new pantry staple packs all your essential grain-free baking ingredients into one convenient mix! Bake into a scone, mix in your favorite veggies or finally master your soon-to-be signature banana bread recipe with ease.
9g protein from Premium Grass-fed Bovine Collagen
Naturally sweetened with coconut sugar 
Made with organic coconut flour, coconut sugar, flax seeds, and chia seeds
Certified Gluten-Free
Customizable with your favorite fresh fruits  veggies
Available Online Only!
Our Grain-Free Protein Bread + Muffin Mix + Collagen is a multipurpose baking mix crafted to customize delicious baked goods with your favorite flavors- with an extra protein boost from Premium Grass-fed Bovine Collagen. Simply add banana, zucchini, lemon, pumpkin + more, to our blend of grain-free superfood flours, including chia, almond + coconut, for a nourishing home-baked treat.


INGREDIENTS
Almond Flour, Arrowroot Flour, Organic Coconut Flour, Grass-Fed Collagen, Organic Coconut Sugar, Organic Flax Seeds, Organic Chia Seeds, Leavening (Baking Soda, Monocalcium Phosphate Monohydrate), Sea Salt, Cinnamon.
Made in a facility that also processes soy, milk, eggs, peanuts and other tree nuts.
NUTRITION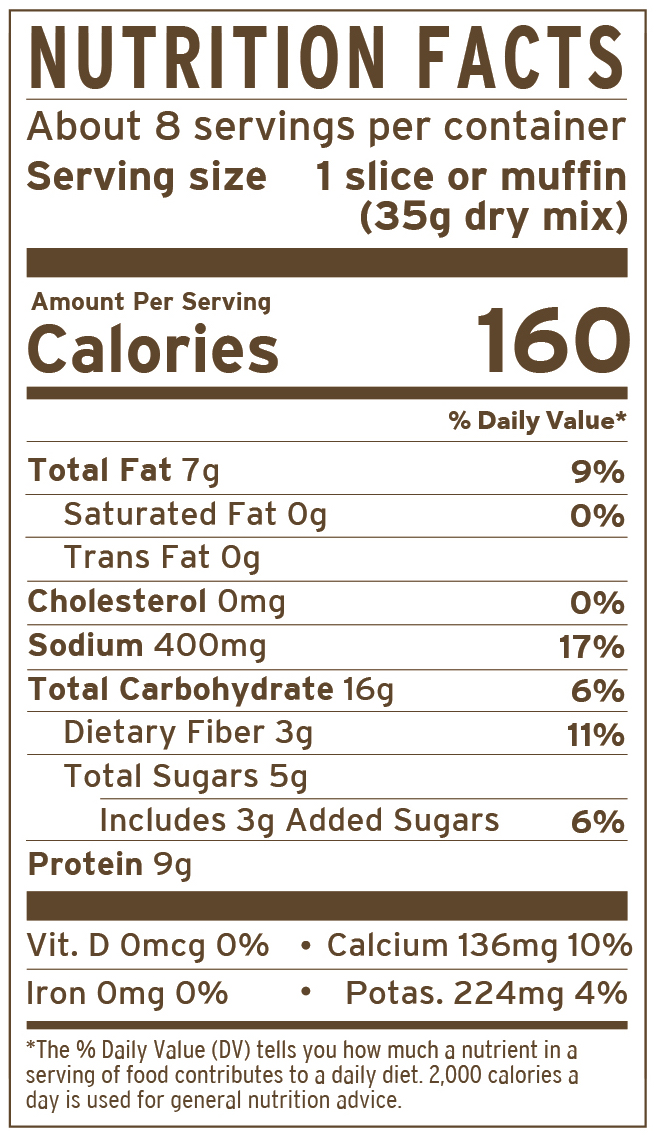 WHAT'S INSIDE
PREP
Banana Bread Ingredients: 2 eggs, 1/4 cup oil, 1 cup mashed ripe bananas (about 3 medium bananas). 1 tsp vanilla extract, optional
Instructions:
1. Preheat oven to 350 degrees fahrenheit. Lightly grease an 8"x4" loaf pan or line with parchment paper.
2. Whisk wet ingredients together until well combined. Add full pouch of dry mix and mix until incorporated.
3. Pour batter into the prepared pan and smooth the top.
4. Bake for 35-40 minutes, or until edges begin to brown and pull away from the pan and a toothpick inserted into the center comes out clean.
Muffins: (Makes 8-10) Pour batter into a muffin tin and bake for 15-20