Our classic blend of ancient grains and superfood seeds, lightly sweetened with hints of cinnamon and sea salt. These crunchy granola clusters can be enjoyed with milk, yogurt, on top of a smoothie or plain jane — straight out of the bag!
Certified Gluten-Free
Certified Vegan
Non-GMO Project Verified
USDA Certified Organic
Sweetened with Coconut Sugar, a Low-Glycemic Sweetener
Baked with Coconut Oil
INGREDIENTS
Organic Gluten-Free Oats, Organic Coconut Sugar, Organic Raw Virgin Coconut Oil, Organic Sunflower Seeds, Organic Puffed Amaranth, Organic Quinoa Flakes, Organic Chia Seeds, Organic Cinnamon, Salt.
NUTRITION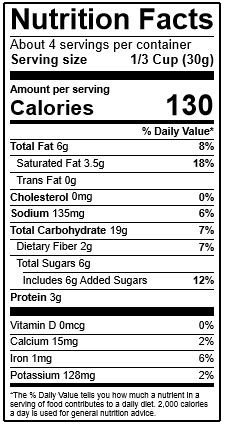 WHAT'S INSIDE