Grain-free almond butter granola made with hints of vanilla + creamy almond butter + superfood seeds create irresistible grain-free clusters baked with MCT Oil. MCT Oil or Medium Chain Triglyceride Oil is a type of fatty acid derived from coconut oil. It can be more easily digested and converted into energy compared to other fats, helping to keep you full longer.
Lightly sweetened with coconut sugar.
Grain-Free, Certified Gluten-Free, Non-GMO, Vegan + Contains Organic Ingredients
5g protein
INGREDIENTS
Organic Pumpkin Seeds, Organic Sunflower Seeds, Cashews, Organic Coconut Sugar, Almonds, Organic Coconut Flakes, Almond Butter, Organic Medium-Chain Triglyceride Oil from Coconuts, Organic Chia Seeds, Organic Cinnamon, Sea Salt, Vanilla Extract.
NUTRITION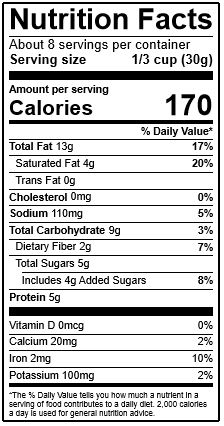 WHAT'S INSIDE