Blue Spirulina Chia Seed Pudding
Gluten-Free, Vegan // Makes 1
Spirulina brings beautiful color and nutrition to your typical chia seed pudding.
Prep time: 2 hours
JUMP TO RECIPE
Brighten up your yogurt with this fiber-friendly chia seed pudding. Chia seeds are an excellent source of dietary fiber, which can help regulate digestion and keep you feeling full for longer. They are also one of the best plant-based sources of omega-3 fatty acids, which are essential for heart health and brain function. In addition to added vibrant color, Blue Spirulina is a rich source of antioxidants and is high in protein.
Ingredients you'll need to make Blue Spirulina Pudding:
1. Chia Seeds: When placed in liquid, chia seeds absorb and expand making this pudding-like texture. Make sure you let your chia seeds absorb fully before eating for the full effects of chia.

2. Coconut Milk: We have used both light fat coconut milk and full fat for this recipe and we find the full fat makes for a creamier texture. Depending on your preferences feel free to swap or use a different nut milk as the base.

3. Almond Milk: the addition of almond milk helps cut the fat and creaminess of the coconut milk.

4. Blue Spriulina Powder: This adds the rich blue color to the pudding. While it is becoming more mainstream and sold in health foods grocery stores, you may have more luck purchasing this online. If you cannot find it, no big deal. Chia seed pudding is delicious with or without the blue spirulina!

5. Vanilla Extract: A little bit of vanilla balances the coconut flavors well adds just enough flavor needed.

6. Maple Syrup: For a touch of sweetness. Omit if you like it less sweet.

7. Greek Yogurt: We used plain for this recipe but feel free to use any yogurt flavor you'd like!

8. Purely Elizabeth Coconut Cashew Grain-Free Granola: the nutty coconut flavor in this granola alleviates some of the creamy textures by adding a necessary crunch to this meal.

9. Fresh Berries: We love to incorporate fruit into our breakfast dishes and blueberries and blackberries taste great with the blue spirulina.
INGREDIENTS
Chia Seed Pudding
¼ cup chia seeds (recommend white chia seeds)
½ cup full-fat coconut milk
¾ cup unsweetened almond milk
½-¾ tsp blue spirulina powder (begin with ½ tsp, see how intensely blue it is, and keep adding until you get to a pale blue)
1 tsp vanilla extract
1 tbsp maple syrup
⅓ cup plain greek yogurt (or yogurt of choice)

Toppings
Handful of Purely Elizabeth Coconut Coconut Cashew Grain-Free Granola
Fresh blueberries
Fresh blackberries (halved) Toasted coconut
DIRECTIONS
1. In a medium bowl, combine all ingredients except toppings. Whisk well, working through any dry pockets of chia seeds.
2. Let sit for 2-3 hours in the refrigerator covered until chia has thickened and the pudding has 'set'.
Liquid error (sections/pf-48086c95 line 52): product form must be given a product
Related Posts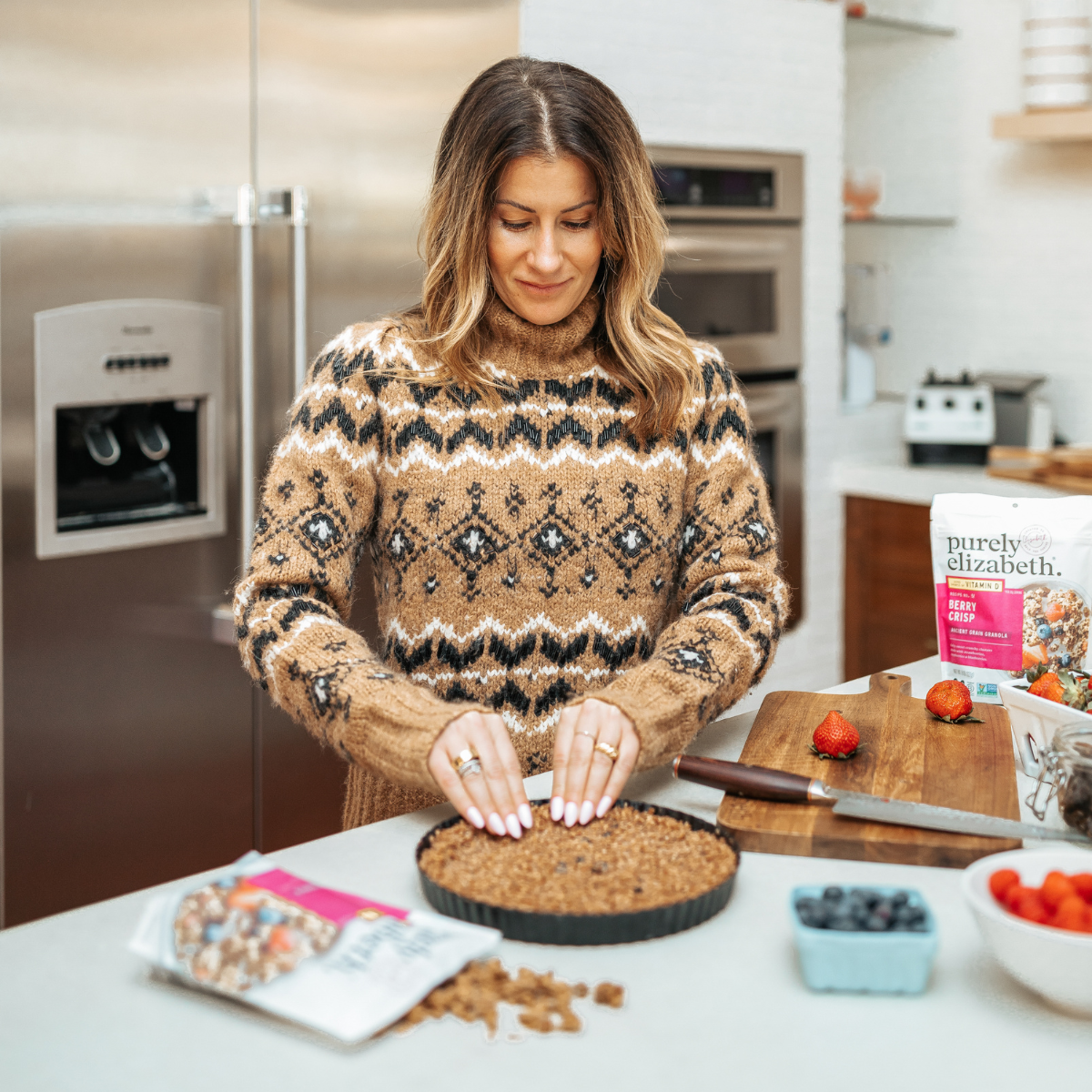 I'm in full on winter mode and these are a few of the things I've been getting cozy with this season.
Everyone's skin is different, but there are a few things that we can all do to achieve (and maintain) that glowing, dewy skin we're all pining after.