Vanilla Pecan Superfood Oatmeal Pouch with Collagen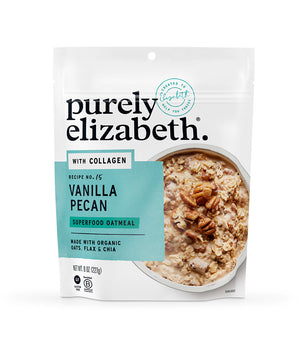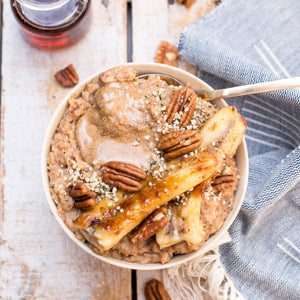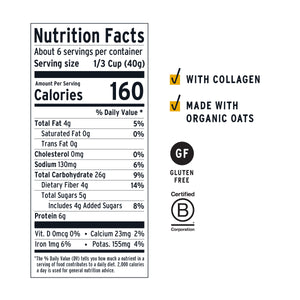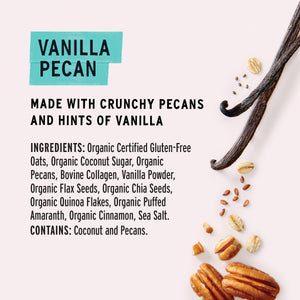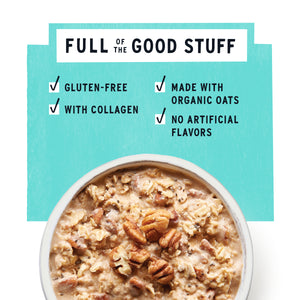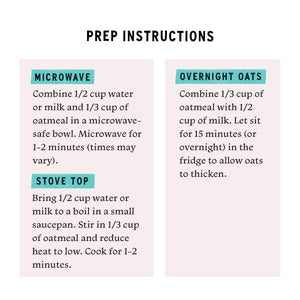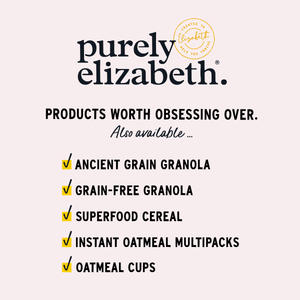 Vanilla Pecan Superfood Oatmeal Pouch with Collagen
PRODUCT DESCRIPTION
Purely Elizabeth's Vanilla Pecan Superfood Oatmeal with Collagen is made with bovine collagen and our signature blend of oats, quinoa, amaranth, chia and flax for an irresistible texture and taste. Intentionally crafted without artificial flavors, each serving has 4 grams of fiber to get your day started right. Ready in as little as two minutes, this elevated oatmeal can be enjoyed hot, soaked in milk for overnight oats, or with fresh toppings that suit your cravings.
BENEFITS
INGREDIENTS
Organic Certified Gluten-Free Oats, Organic Coconut Sugar, Organic Pecans, Bovine Collagen, Vanilla Powder, Organic Flax Seeds, Organic Chia Seeds, Organic Quinoa Flakes, Organic Puffed Amaranth, Organic Cinnamon, Sea Salt.
Contains: Pecans and Coconut⎮Made in a facility that also processes soy, milk, eggs, peanuts, and other tree nuts.
Cooking Instructions
Hot Water: Add boiling water to fill line. Stir well. Let steep 4-5 min.
Microwave (times may vary): Add water to fill line. Cook for 45 seconds.
Overnight Oats: Combine 1/3 cup of oatmeal with 1/2 cup of milk. Let sit for 15 minutes (or overnight) in the fridge to allow oats to thicken.
WHAT'S INSIDE
Intentional Ingredients
Coconut Sugar
Packed with essential vitamins and minerals such as potassium, magnesium, zinc, iron, and B vitamins. 
Chia Seeds
This powerful superfood is known for omega-3 fatty acid, fiber, and complete protein contents.
Amaranth
A nutritious grain high in protein, the amino acid lysine, calcium, and b vitamins.
Quinoa Flakes
A complete protein that also provides a mighty boost of magnesium, iron, copper, and phosphorus.