Honey Peanut Butter Superfood Cereal with Vitamin D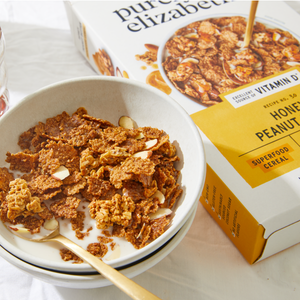 Honey Peanut Butter Superfood Cereal with Vitamin D
PRODUCT DESCRIPTION
Purely Elizabeth's Honey Peanut Butter Superfood Cereal with Vitamin D delivers delicious taste and nutrition. Made with an excellent source of Vitamin D and 6g of fiber in each serving. Each box combines crispy oat and ancient grain flakes with crunchy superfood clusters, peanut butter and almonds for irresistible taste and texture. Intentionally crafted with whole food ingredients you can see, sweetened with sustainably sourced coconut sugar – and never anything artificial.
BENEFITS
INGREDIENTS
Sorghum, Organic Certified Gluten-Free Oats, Almonds, Maple Syrup, Organic Coconut Oil, Organic Honey, Organic Quinoa, Organic Coconut Nectar, Organic Coconut Sugar, Peanut Butter, Cinnamon, Sea Salt, Organic Puffed Amaranth, Organic Chia Seeds, Vanilla Extract, Organic Plant-Based Vitamin D3 (VegD3), Vitamin E (Mixed Tocopherols) Added to Preserve Freshness.
Made in a facility that also processes soy, milk, egg, coconut and tree nuts
WHAT'S INSIDE
Intentional Ingredients
Coconut Sugar
Packed with essential vitamins and minerals such as potassium, magnesium, zinc, iron, and B vitamins.
Chia Seeds
This powerful superfood is known for its omega-3 fatty acids, fiber, and complete protein contents.
Quinoa
A complete protein that also provides a mighty boost of magnesium, iron, copper, and phosphorus.
Organic, Gluten-Free Oats
The ultimate nutritious grain, these organic gluten-free oats are a healthy carbohydrate high in dietary fiber and protein.