Blueberry Flax Superfood Oatmeal Multipack with Prebiotic Fiber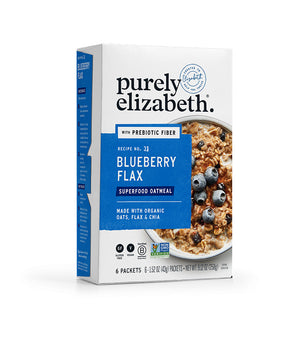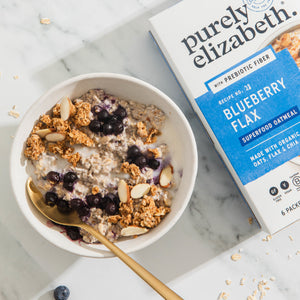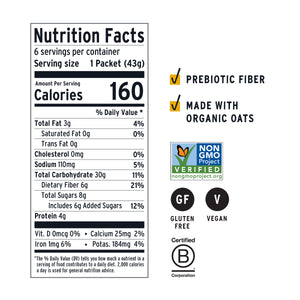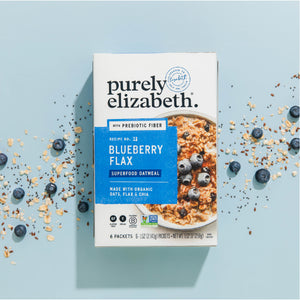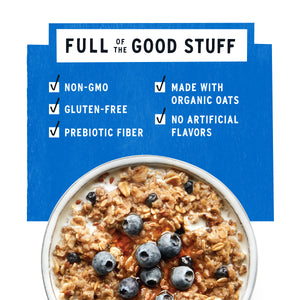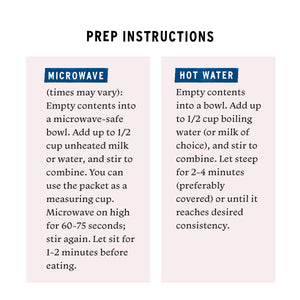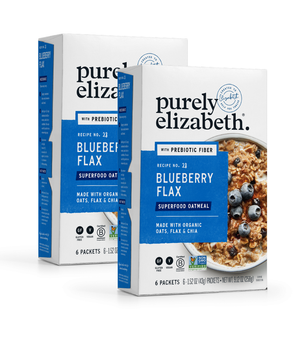 Blueberry Flax Superfood Oatmeal Multipack with Prebiotic Fiber
PRODUCT DESCRIPTION
Purely Elizabeth's Blueberry Flax Superfood Oatmeal with Prebiotic Fiber is made with organic oats and provides excellent source of fiber in every serving. Made with a fresh, sweet taste of blueberry, each cup combines our signature superfood blend of oats, quinoa, amaranth, chia, and flax for an irresistible texture and taste. Intentionally crafted without artificial flavors, each packet has 6 grams of fiber to get your day started right. Single serve pouches take the guesswork out of mindful portion-control, for an easy, nourishing breakfast that's convenient at home or on-the-go.
BENEFITS
INGREDIENTS
Organic Gluten-Free Oats, Organic Coconut Sugar, Blueberries (Blueberries, Sugar, Sunflower Oil), Organic Flax Seeds, Organic Chia Seeds, Chicory Root Powder, Freeze Dried Blueberry Powder, Sea Salt, Organic Quinoa Flakes, Organic Puffed Amaranth, Cinnamon
Contains: Coconut.⎮Made in a facility that also processes soy, milk, eggs, coconut, and other tree nuts.
Cooking Instructions
Hot Water: 1. Empty contents into a bowl. 2. Add up to 1/2 cup boiling water (or milk of choice), and stir to combine.
3. Let steep for 2-4 minutes (preferably covered) or until it reaches desired consistency. Tip: Adjust water or milk for desired consistency.
Microwave (times may vary): 1. Empty contents into a microwave-safe bowl. 2. Add up to 1/2 cup unheated milk or water, and stir to combine. You can use the packet as a measuring cup. 3. Microwave on high for 60-75 seconds; stir again. Let sit for 1-2 minutes before eating.
CAUTION! Bowl and contents will be hot. Do not add hot water or milk directly to the packet.
WHAT'S INSIDE
Intentional Ingredients
Coconut Sugar
Packed with essential vitamins and minerals such as potassium, magnesium, zinc, iron, and B vitamins.
Chia Seeds
This powerful superfood is known for omega-3 fatty acid, fiber, and complete protein contents.
Blueberries
These small fruits pack a powerful antioxidant punch, which may help minimize inflammation.