Original Superfood Oatmeal Pouch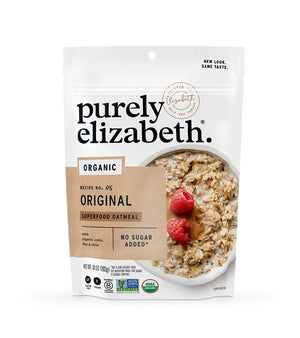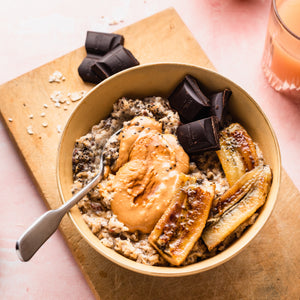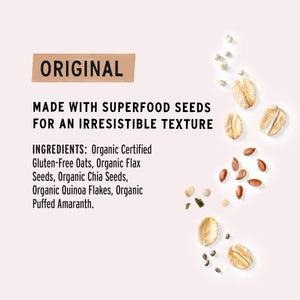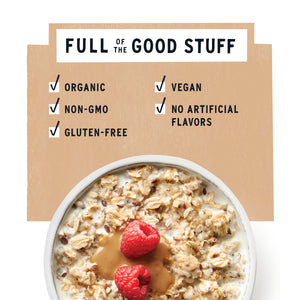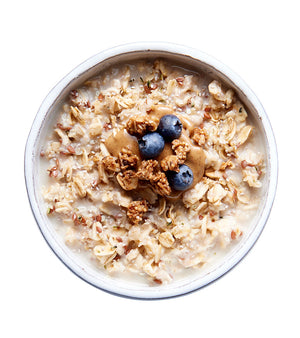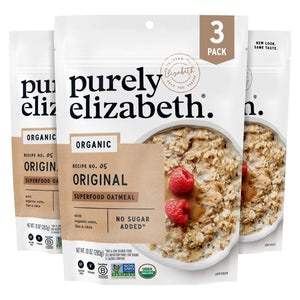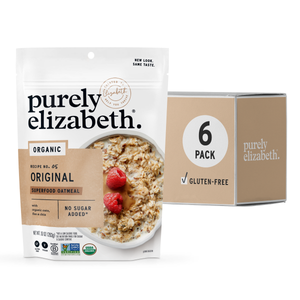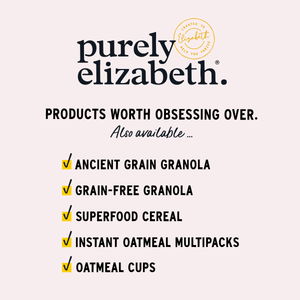 Original Superfood Oatmeal Pouch
PRODUCT DESCRIPTION
Purely Elizabeth's Organic Original Superfood Oatmeal is Certified Organic with no added sugar. Our Organic Original Superfood Oatmeal combines our signature superfood blend of oats, quinoa, amaranth, chia and flax for an irresistible texture and taste. Intentionally crafted without artificial flavors, each serving has 5 grams of fiber to get your day started right. With up to 7 servings per pouch, this simple breakfast option makes meal planning easy. Ready in as little as two minutes, this elevated oatmeal can be enjoyed hot, soaked in milk for overnight oats, or as an ingredient in your favorite recipe.
INGREDIENTS
Organic Gluten-Free Oats, Organic Flax Seeds, Organic Chia Seeds, Organic Quiona Flakes, Organic Puffed Amaranth.
Made in a facility that also processes soy, milk, eggs, coconut and other tree nuts.
Cooking Instructions
MICROWAVE: Combine 2/3 cup of water or milk and 1/3 cup of oatmeal in a microwave-safe bowl. Microwave for 60-75 seconds (times may vary).
STOVE TOP: Bring 2/3 cup of water or milk to a boil in a small saucepan. Stir in 1/3 cup of oatmeal and reduce heat to low. Cook for 1-2 minutes.
OVERNIGHT OATS: Combine1/3 cup of oatmeal with 1/3 cup of milk. Let sit for 15 minutes (or overnight) in the fridge to allow oats to thicken.
Tip: Adjust water or milk for desired consistency.
Best enjoyed with a drizzle of nut butter! Try it with fresh fruit and Purely Elizabeth Granola!
WHAT'S INSIDE
Intentional Ingredients
Organic, Gluten-Free Oats
The ultimate nutritious grain, these organic gluten-free oats are a healthy carbohydrate high in dietary fiber and protein.
Chia Seeds
This powerful superfood is known for omega-3 fatty acid, fiber, and complete protein contents.
Quinoa Flakes
A complete protein that also provides a mighty boost of magnesium, iron, copper, and phosphorus.
Flax Seeds
Flax seeds contain fiber and is commonly used to improve digestive health.